Gdańsk, Poland
Gdańsk, Poland, weaves rich history with picturesque beauty. Cobblestone streets, vibrant Old Town, and waterfront views create a captivating journey through time. During Christmas, Gdańsk transforms into a magical wonderland, aglow with enchanting light displays. Walk hand in hand amidst shimmering lights, creating unforgettable memories. For adventure, take a day trip to the Czech Republic's nearby ski slopes. A short drive leads to snow-covered mountains, offering skiing adventures for all levels. Gdańsk provides a winter wonderland and thrilling ski experiences, ensuring the best of both worlds in this charming Polish city.
Gdańsk in Christmas
Edinburgh, Scotland
Edinburgh, the heart of Scotland, embodies the Christmas spirit with its lively festive atmosphere. The Traditional Market is a standout, bringing locals and visitors together in celebration. Laden with charming stalls, it offers unique gifts and mouthwatering treats. As you stroll, the sweet scent of mulled wine and roasted chestnuts enchants. Immerse yourself in the joyful ambience, finding perfect presents amidst the stalls. For an extra dose of magic, visit Santa Claus Village, turning Edinburgh into a whimsical wonderland. With carol singers, puppet shows, and festive parades, Edinburgh brings Christmas to life, adorning every corner with delightful decorations.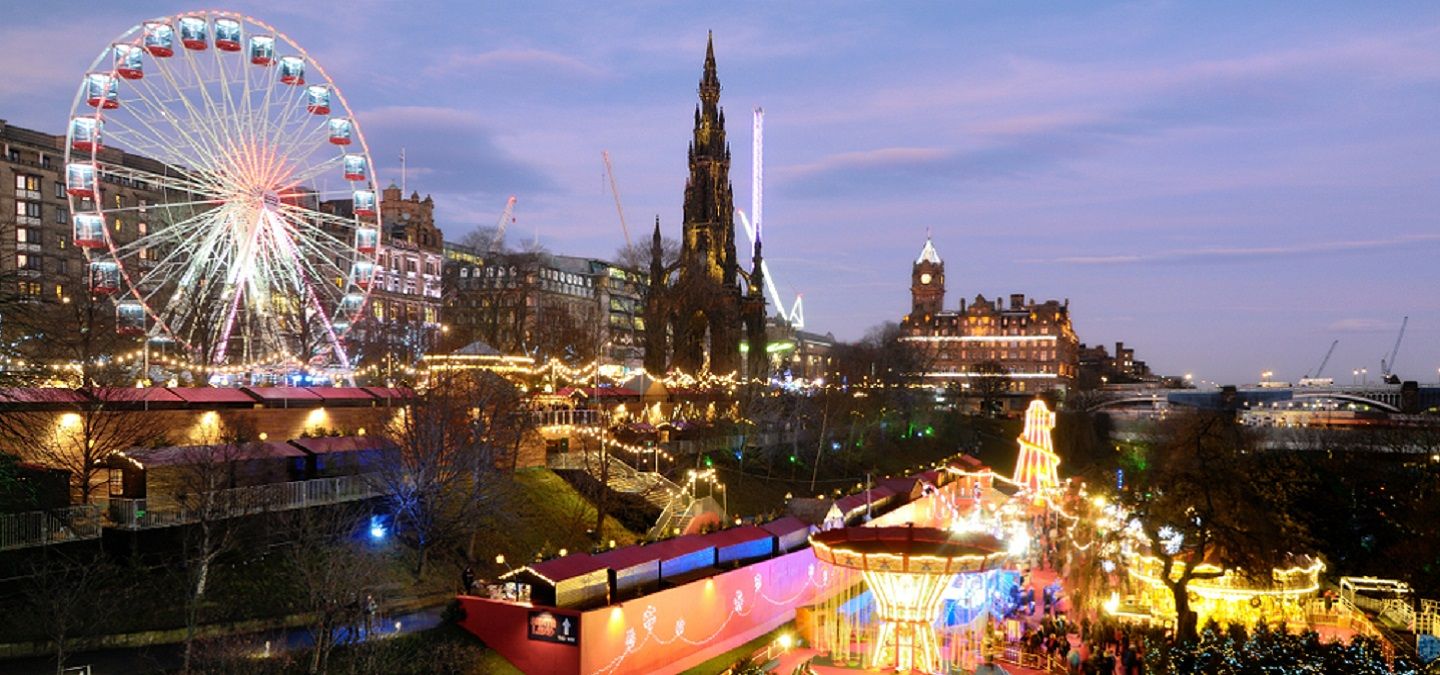 Edinburgh in Christmas
Basel, Switzerland
For those seeking unique and enchanting Christmas celebrations, Basel is a top choice for international winter getaways. Nestled along the Rhine River, this Swiss city transforms each year into a festive wonderland with captivating Christmas markets and cultural Yuletide experiences. Basel's markets are a spectacle, from the traditional charm of Barfüsserplatz to the magical setting at Münsterplatz beneath the towering Basel Minster. It's more than shopping; it's an immersion in Swiss tradition, with opportunities to savour delicacies like fondue and raclette while enjoying the joyful ambience.
Málaga, Spain
Málaga, nestled along the Costa del Sol, invites travellers for a vibrant city break. Rich in history and stunning architecture, Málaga blends cultural experiences with sun-soaked relaxation. Explore the iconic Málaga City Hall in the historic centre, surrounded by the bustling Plaza de la Constitución. During the holidays, Málaga transforms with vibrant markets, offering insight into local culture. Indulge in the festive spirit, savouring cinnamon-spiced hot chocolate and roasted chestnuts. For a magical evening, head to the Castle of Light atop Gibralfaro hill, offering panoramic views of Málaga's skyline. For whimsy, visit Tivoli Gardens, a charming park for families and adventure seekers.
Bruges, Belgium
Nestled in Europe's heart, Bruges is a charming medieval city transporting visitors back in time. Its cobblestone streets, historic buildings, and enchanting canals create a magical atmosphere, ideal for a festive getaway. Wander through delightful Christmas markets, filled with the enticing aroma of spiced mulled wine and gingerbread. Don't miss the famous Ice Sculpture Festival, showcasing intricate sculptures depicting festive themes. Explore the gothic grandeur of the Church of Our Lady and the medieval Belfry of Bruges adorned with festive decorations, offering a taste of history during this festive time.
Dublin, Ireland
Dublin, Ireland, holds a special place in travellers' hearts during the holiday season. Known for its rich history, vibrant culture, and warm hospitality, the city truly comes alive. Explore the iconic Rockefeller Center, adorned with sparkling lights and a towering Christmas tree, creating a perfect holiday backdrop. Stroll through the enchanting skating rink, indulge in retail therapy, and feel the holiday spirit in the air. Dublin offers a range of public holiday festivities, from leisurely walks in picturesque Central Park to ice skating sessions. Whether seeking a traditional Irish experience or a cosmopolitan winter wonderland, Dublin enchants during the holiday season.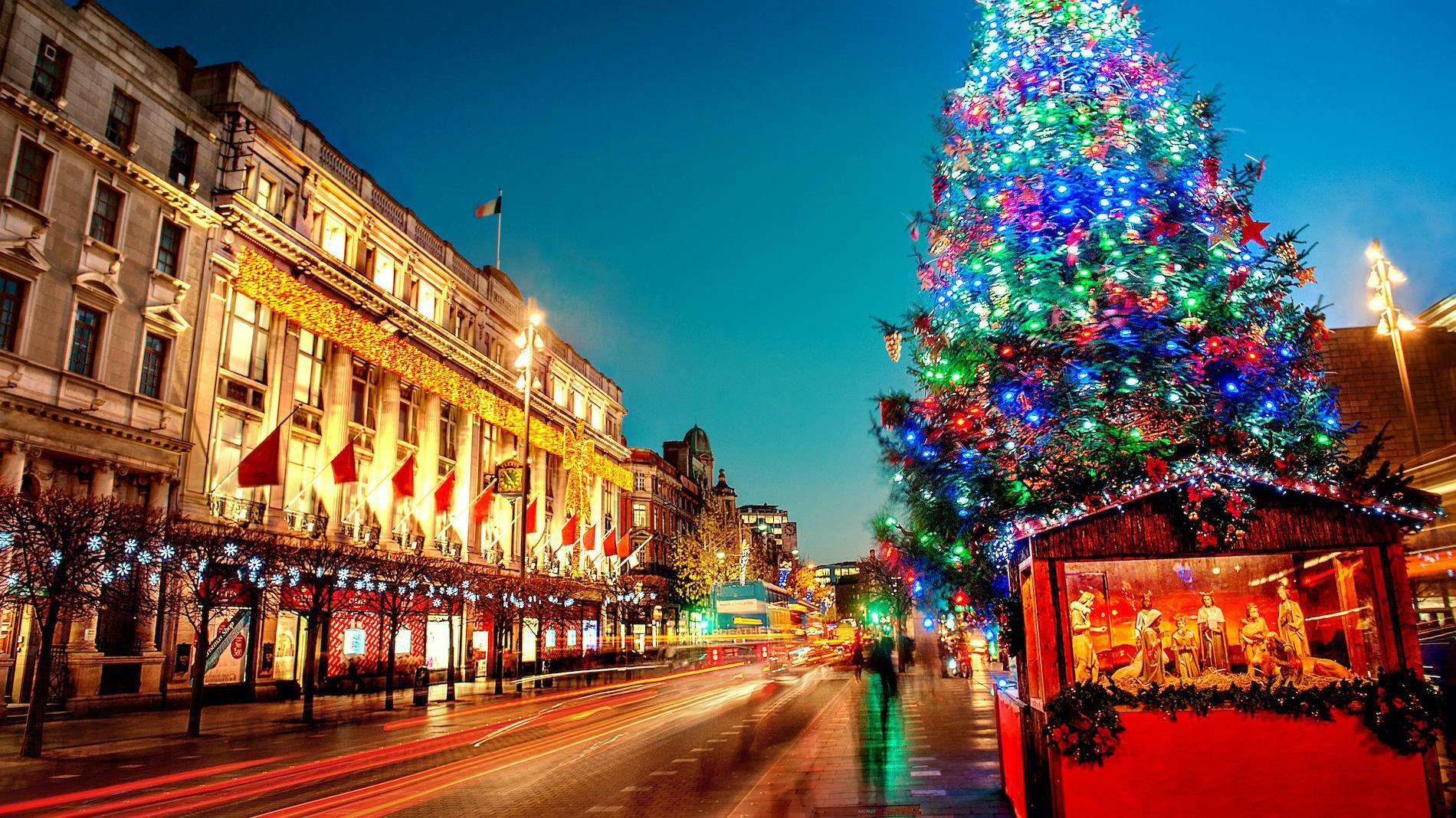 Dublin in Christmas
Inari, Finland
Inari, Finland, offers a unique winter experience in its serene, picturesque town. Window displays adorned with lights create a magical atmosphere, adding an extra touch of wonder. Unlike bustling cities, Inari provides a peaceful escape surrounded by snowy landscapes and crisp air. Explore the town, indulging in hot cocoa from cosy cafés. It's a perfect way to savour the essence of winter in Finland.
Prague, Czech Republic
Experience the festive magic of Prague, where historic charm meets holiday spirit. Known as the "Christmas City of a Hundred Spires," Prague's iconic landmarks light up with seasonal joy. Stroll through Old Town Square's snow-covered streets, adorned with festive lights and markets. Explore the Gothic Church of Our Lady before Týn, indulge in traditional Czech treats, and shop for unique souvenirs. Immerse yourself in Prague's cultural wonders during the holiday season. The National Museum and National Gallery come alive with festive displays, celebrating the rich heritage of the Czech Republic. Visit the Christmas-themed Kafka Museum for a unique blend of history and holiday cheer.